My parents divorced when I was 8. My Dad remarried 2 years later, and my mom remarried when I was 11. Ever since the divorce, I've always felt torn between worlds. In all honesty I resent my father. I've had hard feelings toward him since I was a teenager. At my wedding he said he wanted to be part of my life more, and I wanted him to, too, but there hasn't been much effort since then. I know it goes both ways, but still. More recently he told me he doesn't have anything to say to me. I know he meant he doesn't know what to say, but I still feel like I'm done. I really don't want to have any part with him or his family. I don't feel wanted. I know they say they love me and want me to come visit, but I'm more disinclined to acquiesce.
The guy my mom married is a good guy. As rough around the edges as a crusty lump of coal, but a good guy. Their marriage has always been rocky. My mom wants things done her way, NOW. Now being, like, 10 days ago. She's also not the most physically affectionate person. This can grate pretty hard on a guy. Unfortunately, I feel that my step dad's anger & frustration with his marriage often got taken out on me. He was always convinced I was trying to make trouble when, really, I was terrified of him and just wanted to hide in my room and be left alone. I felt like I was in an abusive home and just wanted O-U-T.
Fortunately I was smart enough to realize that my step dad was more of a dad to me than my father. After I got married and moved out, my mom and step dad separated. They have the weirdest relationship. They go out together, do their taxes together, you get the idea. Sometimes my step dad will call me to say "Trish, your mother's being nice to me. What does she want?"
Heck if I know!
In more recent years, my step dad and I have made amends and he's now Grace's "Papa". My dad hasn't shown much interest in Grace, except for the obligatory birthday & important-holiday card, but my step dad has.
This weekend we went up to Idaho for a family reunion on my step-dad's side. I admit to being nervous and feeling out of place on the way. I hadn't seen much of my step family since their father (Awesomest old guy EVER) passed away several years ago. What business did I have going to their reunion? Inside, I felt awkward. My nerves were put to rest when a ginormous family quilt was unveiled at the luncheon on Saturday. At the top were my step-grandparents names, then their kids. Around each of their kids were listed their sons and daughter's names. Each of us were color coded, so everyone knew who belonged to who. In the area of my step dad's kids were his children... and me... and Andy and Grace. I felt so humbled. I belonged to a family.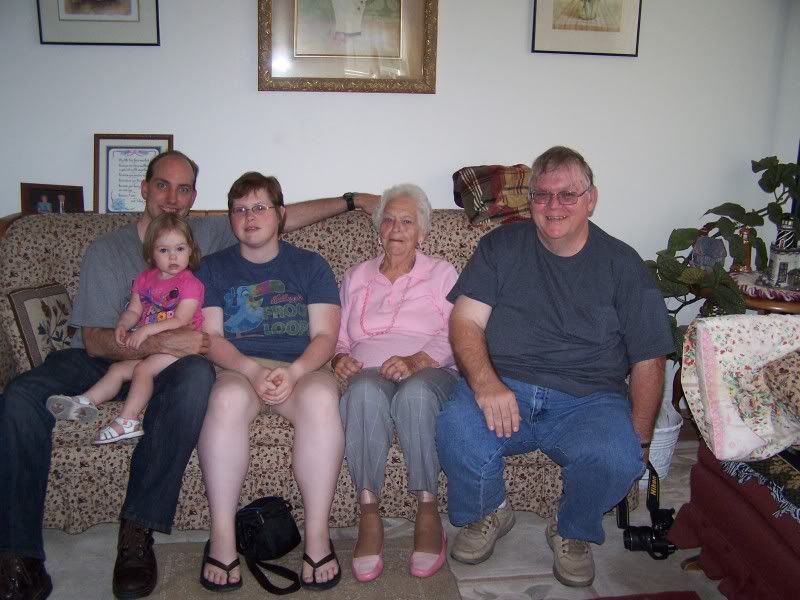 (From left to right: Andy, Grace, Me, Grandma, and my Step Dad)
Some other pics from the reunion:
Grace on the Centennial Carousel at Porter Park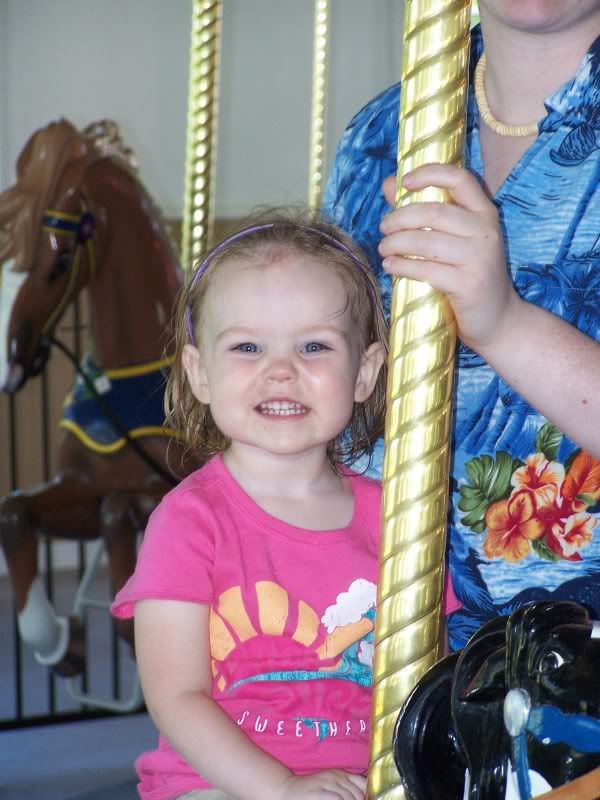 Grace munching: