Over the next few days, I will be posting progress reports on our amazing nursery transformation.
I was hoping we would be able to paint today, but our little project is taking a lot longer than I thought it would. We spent most of the day trying to figure out where all the baby furniture was going, since my perfect nursery picture doesn't exactly fit our space constraints, even though we had measured several times. We came up with a good compromise though.
It's going on to 11, and hubby is just starting with putty repairs around the bedroom windows.
He also had this novel idea: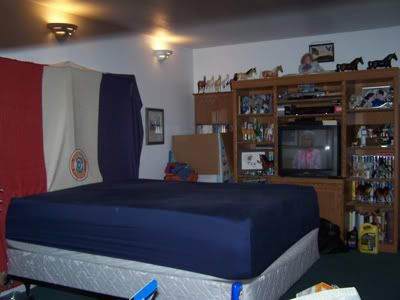 "Honey, we're sleeping in the living room!"
We just moved the frame, box, and mattress, haven't put top sheets & blankets back on yet, but I am planning a blissful evening watching movies while Andy makes the putty repairs. He opened the putty this morning to make sure it was still good, and that stuff is stronger smelling than the paint!
So he'll be in our bedroom with my respirator, all windows open, and the door shut.
Camping out should be fun.
I'll get some more pictures tomorrow when we start painting.