Okay so I was thinking it would be fun to do a photo blog type thing on here for the nursery we're creating for our baby this summer. We are transforming the over-cluttered, single-path-to-dressers nook in our bedroom into the baby's own personal space. I have a pretty specific picture in my head of how I want this cozy 7.4' x 5' space to look.
We've already bought 2 decor items, but you'll probably see those in June when we hang them. Here's the first pictures... and you thought your home was a mess *nervous laugh*
In my defense, the rest of the house is presentable... unless my mother comes to visit, Ahhh!
I guess that's what will make the transformation all the more amazing, right?
First off, "The Nook". I've already cleared out the middle 3 drawers of my own dresser for Gracie's clothes. The top drawer is already full. If you look in the lower right-hand corner of this first picture, you can catch a glimpse of a night stand. I cleaned that out a few weeks ago & put all of her receiving blankets in it. She has a lamp from my office (I'd like to replace the shade with a cuter one), and board books from her Nana (my mom) on top.:
The crib will go under the window. We will be replacing the blinds and hanging a valance. The changing table will go where the giant CD rack is. The CD rack belongs to my brother-in-law who has been living with us since last July.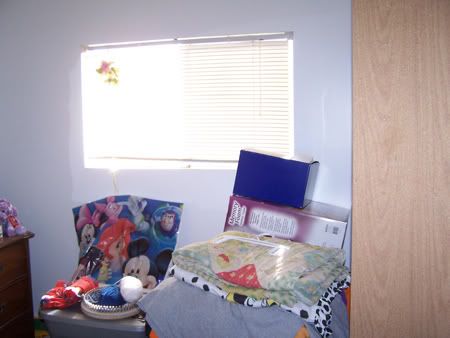 The game plan for the first week of may... go through 1 brown box a day, May 1 - May 9.